Care of Carl: How We Manage Sales Peaks [Black Week]
Peak season for e-retailers can occur at any time of year and often changes based on the type of product they sell. Bitlog spoke with Magnus Olsson, Head of Logistics and Business Development at Care of Carl, to learn more about how they manage peak seasons such as Black Week and Christmas shopping and how Bitlog helps them while doing so.
Avoided Black Week - Then Came COVID
Care of Carl has chosen to avoid the holiday and discount rush to the greatest degree possible since its inception in 2010. Magnus Olsson, responsible for all logistics and business development at the company, claims that they work with campaign periods such as Black Week, Cyber Monday, and the after-Christmas sale minimally.
"Historically, Care of Carl has chosen a full-price strategy", says Magnus. "Then COVID came along, and sales dropped almost 30% in one day, which meant we had to deviate slightly from the strategy to activate sales."
Although e-commerce has experienced rapid growth in recent years, this was not the situation in early 2020. Following Covid, many e-retailers experienced a sharp slowdown, and the future was uncertain for a time.
"It was extremely difficult to draw conclusions and forecast future sales," Magnus adds.
"It was extremely difficult to draw conclusions and forecast future sales."
Then things changed. E-commerce as a trade market experienced a record rise.
Looking back, Care of Carl sees 2020 and 2021 as two successful years with rising sales figures. "Suddenly, sales increased by 30% in 2021," Magnus states. "We needed assistance in the form of a WMS system to become more efficient since we were still working with paper and pencil in the warehouse."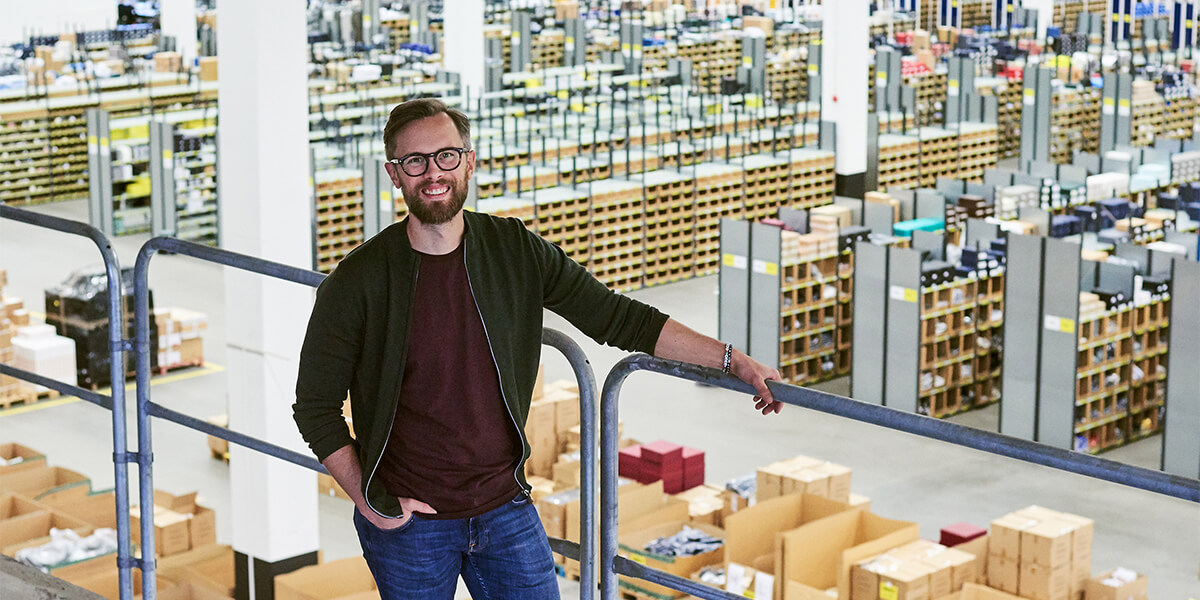 From pen and paper to Bitlog WMS
Magnus has extensive experience with different warehouse and logistics solutions, including manual processes and processes with ERP or WMS support, having previously worked as a logistics and e-commerce consultant. He says that because he had previously good experiences with Bitlog, it was a natural option to consider when looking for a system to support their warehouse.
"Before Bitlog, we used a manual process where we crossed the goods off a list as we picked them," Magnus says, adding that the company can now handle all warehouse-related e-commerce flows smoothly and effectively.
"Our implementation took only six months, but it can take much longer if you don't have the right documentation in place," he says, emphasizing the importance of careful mapping, internal preparation, and documentation to prevent delays. We intended to be up and running with Bitlog before Black Week in October 2021, and we were able to meet that goal by preparing ourselves properly."
User-friendliness was key
"The Bitlog mobile app is fantastic! The license flexibility is essential because we can add more users during peak periods. We can quickly add or replace staff in the warehouse, and because the app is so simple to learn and use, a new employee can be self-sufficient in just 1-2 hours," Magnus says, adding:
"We actually needed more employees in the warehouse in 2020 than we do now [2023], and Bitlog has allowed us to streamline some processes by up to 50%. The contrast between now and when we were working manually is enormous. We can manage more orders with fewer warehouse employees, and there is less chance of error."
"We actually needed more employees in the warehouse in 2020 than we do now [2023]"
Care of Carl's warehouse staff can work more efficiently with optimized picking tasks and scanners for picking and packing before orders are sent to the consumer by using the Bitlog mobile app. This saves time and offers real-time control over inventory balances and order status, which improves the overall customer experience.
First ever Black Week for Care of Carl
There are numerous approaches to Black Week. Some retailers give large discounts and see huge sales increases, while others run a loyalty campaign or do not engage at all.
Care of Carl engaged in Black Week 2022 by launching a small-scale campaign for its loyal and returning customers. "We ran a smaller campaign during the weekend of Black Week 2022, which resulted in a slight increase in staffing on the following Monday and Tuesday," Magnus explains.
Magnus' five top tips when choosing or implementing a WMS:
Documentation! Ensure that you have reviewed your business BEFORE you start talking to suppliers. Map internal processes and identify areas for growth, flaws and what you think you are doing well. Document which system support is required, is useful it it is available, may be relevant in the future, and is unimportant.

Use the documentation (point 1) to guide you through the implementation process. What you decided is what will be delivered by the supplier.

Consider what internal organization is required for the implementation to go easily. You should be conscious that the implementation will necessitate a significant amount of time and resources on your part.

Create a timetable. Ensure that you have a project plan with a timeline, and that the timeline is followed by having regular check-ins with both internal and external project management.

As much as possible, use the standard WMS. Allow requests for customizations to emerge after you have used the system and identified items that provide significant business value. You risk missing dates and delaying the project if the system is over-customized. If changes arise during the implementation time, place them in a backlog and return to them once the implementation is complete.
About Care of Carl
Care of Carl (www.careofcarl.com) is a Borås-based internet retailer of men's clothing and accessories. They provide high-quality goods from well-known brands while emphasizing personalized and professional customer service. Care of Carl is a market leader in men's fashion, with a strong presence in both the Swedish and foreign markets.
Next Post
Exsitec: Så hjälpte vi Care of Carl